With any business investment, one of the biggest concerns is whether or not the purchase will monetarily pay off.  Strategically remodeling a commercial space has many benefits which can add up to a high return on investment.  Some improvements have a greater impact on your bottom line than others, and Emerald Inc. wants to help you get the biggest bang for your buck when it comes to renovating your existing commercial space or building out an empty space from gray shell.
Safety Upgrades
Is your commercial space located in an older building? If so, it may lack some modern safety features. Installing new features that increase the safety of your space can help to reduce accident risk, support employee productivity, and help to prevent worker's compensation claims. These benefits will likely save you and your business money. Plus, the business may gain a better reputation as a very safe company, leading to more sales. If you want to build a company culture of safety (especially in fields like manufacturing, mechanics) making sure your space has all the best safety features is an important part of doing a commercial remodel.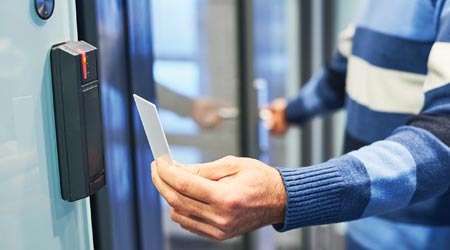 A secure access control system is one safety feature that Emerald Inc. frequently adds during a commercial space remodel.
Cosmetic Improvements
Depending on its prior use, your commercial space may have many noticeable cosmetic issues that should be addressed. Visitors might get a bad first impression of your company if they see dated fixtures, old carpet, scratched/peeling paint, or any other unsightly feature. So, in order to help project an image of success, consider updating anything that looks worn.  A fresh, clean appearance can help to attract more customers to your business. Not only that, but if you focus on redoing the space in a style that matches your company branding, the look and feel will be that much more aligned with your brand message and serve as a marketing tool in and of itself.
Productivity Enhancement
What business doesn't want to improve productivity and efficiency? A commercial remodel can be used to improve the layout of your space and/or increase business capacity. A redesign can also include the installation of faster equipment that will empower employees to do their jobs more efficiently. Here are some productivity-enhancing features that you may want to consider during a renovation of commercial space:
Upgraded lighting

Good lighting increases visibility, allowing employees to work more quickly with less error.

Wider hallways/walkways

More space can decrease accidents and increase the ability to walk quickly from one place to another.

Electrical improvements

Your employees may work faster if you increase the number of electrical outlets they have access to.

HVAC enhancements

Increase comfort and productivity with more accurate, cleaner HVAC systems.
Add Sustainable Features
Implementing energy-efficient, "green" systems when remodeling can lead to significant savings. Sustainable features are good for the planet and attract eco-conscious customers. Here are some environmentally-friendly features to consider adding to your space:
HVAC

Energy efficient HVAC units and sealing, insulating, or replacing ducts can have a huge positive impact.

Low-flow Plumbing

Save water by installing fixtures that use less water, and prevent leaks by updating piping

Upgraded Windows

Better windows can prevent energy loss through reduced heat transfer, decreasing HVAC system burden.

Cool Roof

Cool roofs moderate temperature by reflecting sunlight, keeping your space cooler
Conclusion
We hope you now have a good understanding of how you can get a good return when you are investing in a commercial remodel.  To recap: consider adding new safety features or upgrading old ones, don't forget to make cosmetic updates to give your space a fresh look, include features that enhance productivity, and take the opportunity during a commercial remodel to add sustainable features that will save the company money in the long term.
Take the first step towards building your dream space. Email us today or call us at 480-832-9808 to get preliminary construction pricing for your project and to set up a meeting with us where we will discuss all of the important features you want to have in your commercial space.